Get ready for Spotlight: A Family Arts Festival at THE JUDY!
ONE WEEKEND ONLY: September 30 & October 1

Catch Portland's best theater, music, and dance geared toward children and families!
Meet the Performers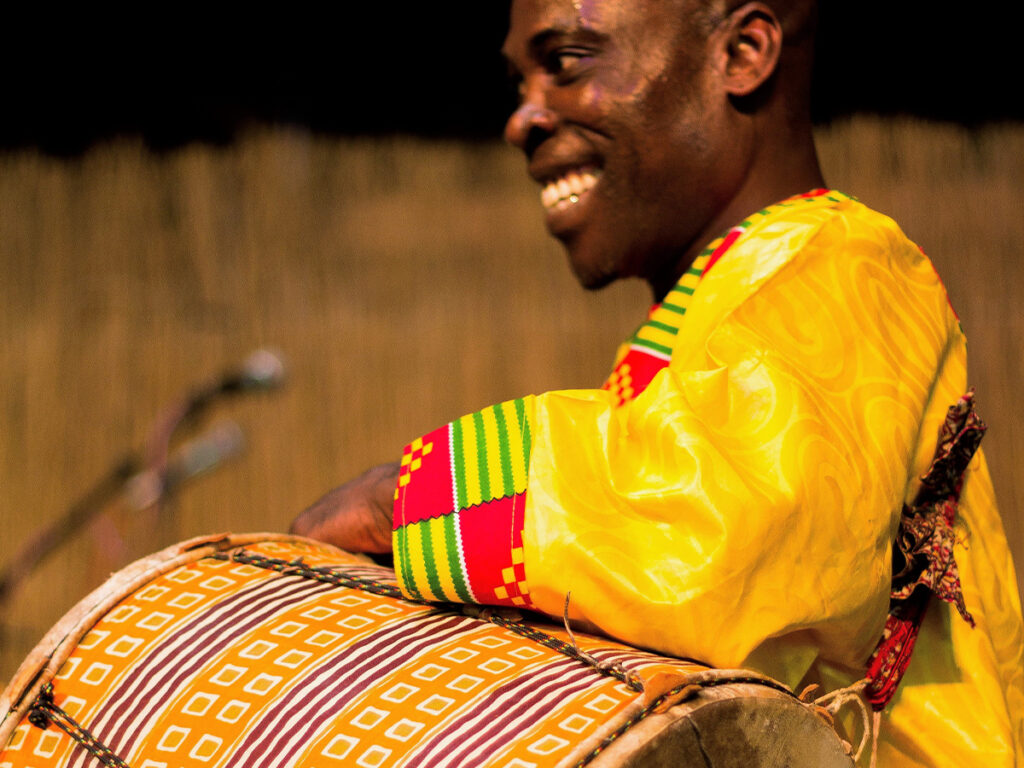 A native of Ghana, Alex Addy is the son of the famous musician, Obo Addy. "My father was one of the pioneers of bringing West African culture and music to America. My siblings and I listened, observed, and helped as needed when my father performed. From this I learned about the power of music, drumming, and rhythms."
Alex teaches the five hand techniques of Ghanaian drumming and believes in students working together to create a strong communal rhythm, yet embrace the confidence to use one's voice in a solo. He teaches at Lewis & Clark College, Open Meadow Alternative Schools, The Higher Stages Program, Right Brain Initiative, Young Audiences, Saturday Academy and the Sun School programs throughout the city.
Junior Artist Generator, JAG, is the dance training and performance program at the home of Portland's world renowned dance company, BODYVOX.
JAG dancers train in ballet, contemporary, and jazz and have a choice between four dance electives: Hip Hop, Flamenco, Salsa, and Improvisation. They rehearse five times a week and perform multiple times throughout the year.
At Spotlight, JAG will be showcasing material choreographed by Andrea Parson, Kiri Maasen, Bryaunna Kostelnik, and Elenaluisa Alvarez.
Catalyst: NWCT's Youth Company is an advanced training program for performing arts and technical and design theater students ages 12 to 18.
The main goal of Catalyst is to facilitate learning by doing. Through a combination of performance and production opportunities as well as classes and workshops, students develop their craft under the mentorship of professional theater artists.
At Spotlight, Catalyst will perform songs from NWCT original musicals!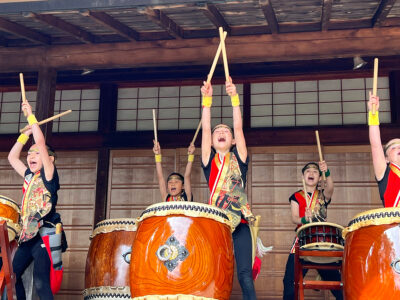 LOUD, LOUDER, LOUDEST!!! enTaiko is a youth Japanese Taiko drumming educational and performance group from Portland, OR. They established in 2007 as an effort to introduce Japanese culture to local communities. Their mission is to foster a community where participants from various ethnic backgrounds work together to create music while learning the cultural traditions of others.
The group carries on a centuries-old musical tradition from Japan, and performs at various cultural events. enTaiko plays not only Japanese traditional style taiko, but also explores collaborative music creation — for example, mixing Taiko and marimba!
Taiko education provides a path for individuals to discover, develop, and pursue their life skills and interests. In addition to performances, enTaiko conducts classes with students (K-8) participates in residency programs at various schools, libraries, and local festivals.
Gerardo Calderon is a composer, teaching artist, producer and multi-instrumentalist. Born in Mexico City, he grew up surrounded by music, dance and culture. Gerardo is the musical director of Grupo Condor, joining storyteller, actress, and musician Nelda Reyes.
Storytelling has always existed in ancient cultures, and it has been a great tool to tell younger generations about the traditions such as culture, gastronomy, art, language (Mother Tongue), music, dance, poetry, and history about their culture. There is a Nahuatl phrase that many ancient cultures from Mexico share "Xochitl Incuicatl – Flor y Canto – Flower and Song." Dance, poetry, music, and song play a very important role in ancient cultures, no just in Mexico but in all ancient cultures from around the world. Legends of Mexico will take you to a fascinating place, traveling through time by listening to the songs, music and stories.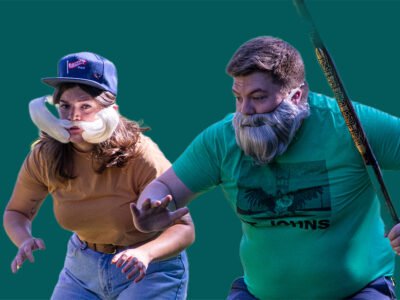 Join Portland's favorite comedians as they spin a mighty tale with Kickstand Comedy!
Imagine-Nation is an interactive youth-focused comedy adventure show filled with magic, wonder, and LAUGHS! Using props, costumes, and audience suggestions, our adventurers bring your imagination to life with a fun and raucously funny improvised story for all ages! Follow our heroes on their perilous journey and meet an impressive and unpredictable cast of characters along the way. You'll name characters, make the sound effects, and help our hero along the way! After the story is over, kiddos can take the stage as they join our What The Fun Performers in a series of fun-forward improv games to engage our bodies and funny bones.
What The Fun is Kickstand Comedy's Youth Comedy Pilot Program, a series of classes, workshops, and outreach programs dedicated to youth improv and comedy education in Portland. Together with kids and their families, WTFun is committed to creating an inclusive, honest, and creativity-forward community for families and youth to create, learn, and grow together.
Mo Phillips is a teaching artist and a fun-time maker in Portland, Oregon. He writes and records songs, makes oddball videos, produces choose-your-own-adventure musicals, all in Mo-Fi. Mo-Fi is a way of making art centered on joy and exploration, primarily of inexpensive apps that do silly stuff. Get ready for a terribly unsophisticated way to have a good time!
When not teaching song writing in schools or shredding ukulele for the people, Mo is a dad. That's his favorite job, the rest is just gravy.
NWCT's own John Ellingson is Punchinello the Clown!
John started his career on stage — really in the center ring — at the bright old age of 8. "I want to be a CLOWN!" he said. That's how he met the late, great James Allen, AKA Rusty Nails, a former Ringling Bros. clown who even inspired Crusty on The Simpsons. Rusty Nails mentored John in clowning for over 10 years. Later performing his solo act at birthday parties and festivals all over Oregon, John discovered that he loved performing for children.
Today, John's clown trunk of tricks has helped him create some of his most iconic roles at NWCT, including the Mad Hatter from Alice in Wonderland, Gerald from Elephant & Piggie, and MC Dog from Go, Dog. Go! John can't wait to dust off his clown shoes and create a super fun interactive clown show for kids and their families at The Judy.
PHAME is a fine and performing arts academy serving adults with intellectual and developmental disabilities. Their mission is to empower individuals with I/DD to lead full, creative lives through arts education and performance.
PHAME's Rock Ensemble is a 15-20 member performance group that specializes in pop and rock music. With a combination of stellar vocalists and energetic drummers, the Rock Ensemble is sure to have audiences dancing in the aisles!
Trade your opera glasses for binoculars at Bird Songs of Opera, an immersive recital that reimagines famous opera arias as the songs of Oregon birds! As you wander the Judy, keep your ears open for strains of Puccini, Mozart, and Bizet — and keep your eyes peeled for flashes of glamorous plumage!
Meet The Birder, an accordion-playing wanderer who loves to listen and learn, and get your photo taken with the Northern Flicker, The Mourning Dove, and The Great Horned Owl! Presented by Renegade Opera, Portland's unconventional opera company, this production is a delight for bird watchers and music-lovers of all ages.
Festival Schedule
Spotlight tickets are available for one day or for the full weekend (that's the only way to see ALL of the performers!)
Performances start at 10am and run until 4pm across all three performance spaces at THE JUDY:
The Schnitzer Stage, The Ball Black Box, and The Family Cinema. Stay as long as you'd like!
Each individual performance is 30 – 45 minutes long.
Performers and timeslots are subject to change, and additional artists may be added.
Saturday, September 30
THE STAGE
10:10am – BODYVOX Junior Artist Generator
11:10am – Catalyst
12:10pm – PHAME
1:10pm – BODYVOX Junior Artist Generator
2:10pm – Catalyst
3:10pm – PHAME
THE FAMILY CINEMA
10:20am – Kickstand Comedy
11:20am – John Ellingson
12:20pm – Mo Phillips
1:20pm – Kickstand Comedy
2:20pm – John Ellingson
THE BLACK BOX
10:45am – Renegade Opera
11:45am – Grupo Condor
12:45pm – Renegade Opera
1:45pm – Grupo Condor
2:45pm – Mo Phillips
Sunday, October 1
THE STAGE
10:10am – BODYVOX Junior Artist Generator
11:10am – Catalyst
12:10pm – Alex Addy
1:10pm – BODYVOX Junior Artist Generator
2:10pm – Catalyst
3:10pm – Alex Addy
THE FAMILY CINEMA
10:20am – Kickstand Comedy
11:20am – John Ellingson
12:20pm – Mo Phillips
1:20pm– Kickstand Comedy
2:20pm – John Ellingson
THE BLACK BOX
10:45am – enTaiko
11:45am – Grupo Condor
12:45pm – enTaiko
1:45pm– Grupo Condor
2:45pm – Mo Phillips